To all my wonderful customers and collectors, it was super to see so many you especially over the latter part of 2021 as shows really started again August Bank holiday. With the exception of cancelled Desire Winchester all my autumn and Christmas shows ran really well. Thank you for making a difficult year brilliant. Will keep you posted as I hear more about upcoming events.
.
All the fun of the fair . . .
April 30-May 2
Penshurst Place, Weald of Kent Country Craft Show – FREE entry to RHS & HE Members
http://www.thecraftshows.co.uk/kent/spring/
May 12-15 New show for 2022
Hever Castle, Kent. Craft in Focus
https://www.craftinfocus.com/next-fair/hever-castle-2022
June 10-12 🌸🌷🌸
The Garden Show, Stansted House,Rowlands Castle,Hampshire. (FAB FAIR PIC ABOVE – The Garden Show) Come and see me at The Garden Show 2021 🌸🌷🌸
https://www.thegardenshowonline.com/gardenshow_stansted/
July 14-17
Patchings Festival- Patchings Art Centre, Calverton.
https://www.patchingsartscentre.co.uk/
Aug 26-29
Stonor Henley, Oxfordshire, FREE Entry to RHS & HE Members
http://www.thecraftshows.co.uk/henley-on-thames/
Sept 2-4
Chatsworth House Country Fair, Derbyshire
https://www.chatsworth.org/events/chatsworth-country-fair/
Sept 10-13 Show On
Hever Castle, Kent. Craft in Focus
https://www.craftinfocus.com/next-fair/hever-castle-2020/
Sept ?
Stockbridge Contemporary Crafts, Stockbridge Town Hall, Hampshire. FREE Entry & Parking.
A lovely little show run by quality makers.
Times
11am-5pm Friday 24th September
10am-5pm Saturday 25th September
10am-4pm Sunday 26th September
Oct ? Sat-Sun 9am-4pm
Festival of Crafts – Farnham Maltings – Farnham – World Craft Town



Really great exhibiting at the 25 th Festival of Crafts one of my favorite Surrey shows. The fab team at the Maltings are practiced at making sure you are kept safe whilst having fun. There was a great atmosphere with a steady flow of happy visitors as many of you shopped for Christmas.
Covid considerations. Everyone wore a face covering again this year.
My new designs for 2020/21 Fish Bones and Hag Stones, proved popular. Thank you to everyone who visited especially those who travelled up from Winchester and further afield. I hope to see you again soon.
Tickets available to book now. £5 adults. Timed entry.
Nov Cancelled 2022
Desire Jewellery Fair Winchester
Do come and see me at Farnham instead or one of my Christmas Fairs.
🎄🎁🎄CHRISTMAS FAIRS 2022🎄🎁🎄
Wonderful to meet so many fabulous collectors and new customers at RHS Wisley 2021. You made it my best show ever in over 20 years ! Thank you all so much.
Sincere apologies to those of you I missed, but great to see some of you again at spacious Loseley House Christmas Fair, and great to meet new customers too.

🌲 Nov 9-13 RHS Wisley 🌲Craft in Focus.
RHS Wisley Surrey. FREE Entry to RHS Members. Members with a star on the back of their card can bring a fiend for free. To be held in the new state of the art RHS Hilltop education centre.
Times 9am-4.30pm.
http://www.craftinfocus.com/ http://www.desirefair.com/
🎄 Nov 17-20 Loseley House Christmas Fair, Guildford 🎄Rural Crafts.

Festively decorated the Christmas Fair, with food hall is held in heated floored pavilions around Loseley House's beamed Tithe Barn cafe, on the lawns of tudor Loseley House.
FREE Parking close to the pavilions.

Times
9am -5pm Thursday 18th to Saturday 20th November
9am -4pm Sunday 21 November
Tickets at the event Adults £5.50, Seniors £4.00. Each ticket entitles you to two visits.
Losley House GU3 1HS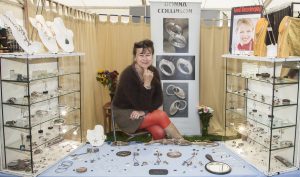 "Hi Donna, I bought one of your bracelets at the weekend and you added a seaglass bead. I just wanted to say how much I love it. I wear it at work when wearing my corporate suit in my

corporate office in the city. It helps me remember that really I am just a girl picking up stones on a beach listening to the waves. Thank you so much." – Suzi